Presentato da
---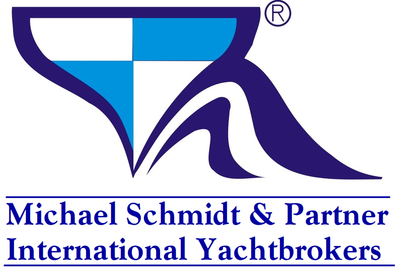 Jan Spengler
Michael Schmidt & Partner Yachthandels GmbH
Rübekamp 5
25421 Pinneberg
Germania
Descrizione
---
Auto tradurre:
EN
Work carried out:
• International perfection platinum hull painting 2016
• International perfection oyster white 2016 superstructure and cockpit painting
• Deck painted with white International Interdeck antiskid (grey cockpit)2016
• complete International toplac 2015 varnishing interiors
• Extraordinary engine maintenance 2016 (water pumps reconditioning, new riser, alternator control and exhaust manifold, heat exchanger cleaning, new batteries, complete repainting, new belts, boiler deviation valves, complete service)
• Electrical system completely redone 2015
• Internal LED lights and LED navigation lights 2015
• Antal track plus new Mainsail ball bearing cars 2016
• outhaul mainsail 3:1 new 2016
• Lower flying backstays new 2016 in dyneema
• Upper flying backstays in dyneema 2016
• Deck equipment disassembled, repainted, derlin and torlon ball bearings replacement and complete overhaul 2015
• new lifelines and railing 2015
• Water tanks 250 lt new 2016
• New gas bottle compartment 2015
• sheet and halyard pockets 2016
• Mattress covers (9) new 2017
New Antiskid kiwigrip 2020
Winter cover 2020

Regatta Results 2017
1st absolute at 100 miles Adriatica
7th absolute and 1st class in La Ottanta
1st class at La Cinquanta

General info
This boat is the ex Andelsbanken IV, owned by Victor Greulich and skippered by Jens Christensen, and was specially built to take part in the 1989 Admirals Cup as part of the Danish team.

Staging and technical:
Water pressure pump (a x aluminium**), Deck Shower, Manual Bilge Pump, Tender, 8 Winch (Lewmar).

Domestic Facilities onboard:
Warm Water System.

Entertainment:
Hi-Fi (systemcontainer 20ft).

Sails accessories:
Lazy Jack (s), Sail Bag (sails**), Vang.

Kitchen and appliances:
2 Burner (gas).

Upholstery:
Hull Cover (invernale).


IT
Lavori eseguiti:
• Verniciatura scafo International perfection platinum 2016
• Verniciatura tuga e pozzetto International perfection oyster white 2016
• Verniciatura coperta con antiskid International Interdeck bianco (pozzetto grigio)2016
• Verniciatura totale interni International toplac 2015
• Manutenzione straordinaria motore 2016 (ricondizionamento pompa acqua, riser nuovo, controllo alternatore e collettore di scarico, pulizia scambiatori, nuova batteria, riverniciatura completa, cinghie nuove,valvole deviazione boiler, tagliando completo)
• Impianto elettrico completamente rifatto 2015
• Luci led interne e fanali navigazione led 2015
• Rotaia Antal più carrelli Randa nuovo 2016
• Tesabase randa 3:1 nuovo 2016
• Volanti basse in dyneema scalzato nuove 2016
• Volanti alte in dyneema 95 calzato nuove 2016
• Code volanti in dyneema nuove 2016
• Attrezzatura coperta (rotaie, carrelli, bozzelli…)smontati, riverniciati, sostituzione sfere derlin e torlon e viteria completa 2015
• Strozzatori carrelli vang ecc 2016
• Draglie nuove 2015
• Serbatoi acqua 250 lt nuovi 2016
• Vano bombole del gas nuovo 2015
• Tasche scotte e drizze nuove 2016
• Coprimaterassi (9) nuovi 2017
Nuovo Antiskid kiwigrip 2020
Copertura invernale 2020

Risultati regate 2017
1° assoluti alla 100 miglia Adriatica
7° assoluti e 1° di classe a La Ottanta
1° di classe a La Cinquanta

Info generali
Questa barca è nata sotto il nome di Andelsbanken IV, di proprietà di Victor Greulich e condotta dallo skipper Jens Christensen, è stata appositamente costruita per prendere parte all'Admirals Cup del 1989 come parte del team della Danese.

Allestimento tecnico e di coperta:
Autoclave (a x aluminium**), Doccia esterna, Pompa di sentina manuale, Tender, 8 Winch (Lewmar).

Dotazioni domestiche di bordo:
Boiler.

Intrattenimento:
Stereo (systemcontainer 20ft).

Accessori vele:
Lazy Jack (s), Sail Bag (sails**), Vang rigido.

Cucina ed elettrodomestici:
2 Fornello (gas).

Tappezzerie:
Copriscafo (invernale).


FR
Travaux réalisés :
• Peinture internationale de coque en platine perfection 2016
• International perfection oyster white 2016 tuga and cockpit painting
• Peinture couverte avec antiskiage international interdeck blanc (cockpit gris)2016
• Peinture totale d'intérieurs toplac internationaux 2015
• Entretien extraordinaire du moteur 2016 (reconditionnement de la pompe à eau, nouvel électrateur, collecteur de commande et d'échappement de l'alternateur, nettoyage de l'échangeur, nouvelle batterie, repeinte complet, nouvelles sangles, soupapes d'écart de chaudière, coupe complète)
• Système électrique complètement refait 2015
• Feux LED internes et feux de navigation LED 2015
• Antal rail plus nouveaux chariots Mainsail 2016
• Tesabase grand-voile 3:1 nouveau 2016
• Volants bas dans le nouveau dyneema pieds nus 2016
• Les volants hauts en dyneema 95 s'adaptent nouveau 2016
• Nouvelles queues volantes dyneema 2016
• Équipement couvert (rails, chariots, croquis...) démonté, repeint, remplacement de la balle de derlin et de torlon et viteria complet 2015
• Le chariot Vang s'étouffe etc. 2016
• Draglie nouveau 2015
• Réservoirs d'eau 250 lt nouveauté 2016
• Nouveau compartiment à bouteilles de gaz 2015
• Poches Scott et nouvelle franchise 2016
• Couvre-matelas (9) nouveau 2017
Nouveau kiwi antiskid 2020
Couverture hivernale 2020

Résultats régate 2017
1er absolu à 100 miles Adriatica
7ème et 1ère classe à La Ottanta
1ère classe à La Cinquanta

Informations générales
Ce bateau est né sous le nom d'Andelsbanken IV, propriété de Victor Greulich et dirigé par le skipper Jens Christensen, et a été spécialement construit pour participer à la Coupe des Amiraux 1989 dans le cadre de l'équipe danoise.

Equipement technique et de pont supérieur:
Eau sous pression (a x aluminium**), Douche de cockpit, Pompe de cale manuelle, Annexe, 8 Winch (Lewmar).

Equipement domestique de bord:
Ballon d'eau chaude.

Divertissements:
Hi-Fi (systemcontainer 20ft).

Accessoires voiles:
Lazy Jack (s), Sac à voile (sails**), halebas.

Cuisine et appareils électromenagers:
2 Cuisinière (gas).

Tapisserie:
Taud d'hivernage (invernale).


DE
Durchgeführte Arbeiten:
• International Perfektion Platin Rumpf-Lackierung 2016
• International Perfektion Oyster Lackierung weiß 2016 Aufbau und Cockpit
• Laufflaechen mit weißem International Interdeck Antiskid (Cockpit grau) 2016
• Interieur International Toplac 2015
• grosse Motorwartung 2016 (Wasserpumpen, neuer Riser, Lichtmaschine und Abgaskrümmer, Waermetauscher, neue Batterien, Lackierung, neue Keilriemen, Boiler-Bypassventile, kompletter Service)
• Elektrik komplett 2015 neu
• LED-Leuchten Innenraum und LED-Navigationsleuchten 2015
• Antal-Mastschiene plus neue Grosssegel Wagen kugelgelagert 2016
• Unterlikstrecker Großsegel 3:1 neu 2016
• Untere Backstagen 2016 Dyneema
• Obere Backstagen 2016 Dyneema
• Decksbeschlaege (Schienen, Trolleys, Bloecke) zerlegt, neu lackiert, Derlin und Torlon Kugellager ersetzt, saemtliche Schrauben erneuert.
• neue Reling 2015
• Wassertanks 250 lt neu 2016
• Neues Gasflaschenfach 2015
• Fallentaschen, Schottaschen 2016
• Matratzenbezüge (9) neu 2017
Neue Antiskid Kiwigrip 2020
Winterplane 2020

Regatta Ergebnisse 2017
1. Absolut bei 100 Meilen Adriatica
7. absolut und 1. Klasse La Ottanta
1. Klasse in La Cinquanta

Allgemeine Informationen
Dieses Boot wurde unter dem Namen Andelsbanken IV gebaut, Eigner Victor Greulich mit Skipper Jens Christensen, Admirals Cup 1989 Team Daenemark.

Deck und technische Ausrüstung:
Druckwasserpumpe (a x aluminium**), Cockpitdusche, manuelle Bilgepumpe, Beiboot, 8 Winschen (Lewmar).

Anlagen an Bord:
Warmwasserbereiter.

Unterhaltung:
Stereoanlage (systemcontainer 20ft).

Zubehör Sails:
Lazy Jack (s), Segelsack (sails**), Baumniederholer.

Küchen-und Haushaltsgeräte:
2 Herd (gas).

Polsterung:
Ganzpersenning (invernale).


ES
Trabajos realizados:
• Pintura internacional de casco de platino de perfección 2016
• Perfección internacional ostra blanca 2016 tuga y pintura de cabina
• Pintura cubierta con antidesardo interdeck internacional blanco (cabina gris)2016
• Pintura total de interiores toplac 2015 internacionales
• Extraordinario mantenimiento del motor 2016 (reacondicionamiento de la bomba de agua, nueva contrahuella, control del alternador y colector de escape, limpieza del intercambiador, batería nueva, repintado completo, nuevas correas, válvulas de desviación de caldera, corte completo)
• Sistema eléctrico completamente renovado 2015
• Luces LED internas y luces de navegación LED 2015
• Carril antal más nuevos carros Mainsail 2016
• Tesabase mainsail 3:1 nuevo 2016
• Volantes bajos en el nuevo dyneema descalzo 2016
• Los volantes altos en dyneema 95 se adaptan a los nuevos 2016
• Nuevas colas voladoras dyneema 2016
• Equipo cubierto (rieles, carros, bocetos...) desmontado, repintado, derlin y torlon reemplazo de pelota y viteria completa 2015
• Carro vang chokes etc 2016
• Draglie nuevo 2015
• Tanques de agua 250 lt nuevo 2016
• Nuevo compartimento de cilindros de gas 2015
• Bolsillos scott y nueva recjetividad 2016
• Cubiertas de colchón (9) nuevas 2017
Nuevo kiwi Antiskid 2020
Cobertura invernal 2020

Resultados de la regata 2017
1º absoluto a 100 millas de Adriática
7ª clase absoluta y 1ª en La Ottanta
1ª clase en La Cinquanta

Información general
Este barco nació bajo el nombre de Andelsbanken IV, propiedad de Victor Greulich y dirigido por el capitán Jens Christensen, y fue especialmente construido para participar en la Copa Almirantes de 1989 como parte del equipo danés.

Equipo técnico y de cubierta:
Autoclave (a x aluminium**), Ducha externa, Bomba de sentina manual, Auxiliar, 8 Winch (Lewmar).

Enseres domesticos de abodo:
Calentador.

Entretenimiento:
Stereo (systemcontainer 20ft).

Accesorios Velas:
Lazy Jack (s), Sail Bag (sails**), Vang.

Cocina y electrodomésticos:
2 Cocina (gas).

Tapicerías:
Funda del barco (invernale).


RU
Проведена работа:
- Международная совершенная платиновая роспись корпуса 2016
Международное совершенство устрицы белый 2016 туга и кабина живописи
- Покрытая живопись белой международной антискидной (серая кабина)2016
- Общая картина интерьеров международных топлац 2015
- Чрезвычайное техническое обслуживание двигателя 2016 (восстановление водяного насоса, новый стояк, управление альтератором и многогранный объем выхлопных газов, очистка обменного устройства, новая батарея, полная перекраска, новые ремни, клапаны отклонения котла, резка завершена)
Электрическая система полностью переделана 2015
Внутренние светодиодные фонари и светодиодные навигационные фонари 2015
- Antal rail плюс новые тележки Mainsail 2016
- Tesabase mainsail 3:1 новый 2016
Низкие рулевые колеса в новом 2016 босиком dyneema
Высокие рулевые колеса в dyneema 95 подходят для нового 2016 года
Новые летающие хвосты dyneema 2016
- Покрытое оборудование (рельсы, тележки, эскизы...) разобранные, перекрашенные, дерлин и торлон мяч замены и полной витерии 2015
- Vang троллейбус душит и т.д. 2016
- Драгли новый 2015
- Водные резервуары 250 lt новый 2016
Новый отсек газовых баллонов 2015
- Карманы Скотта и новая прямота 2016
- Матрасные чехлы (9) новый 2017
Новый Антискид кивигрип 2020
Зимний охват 2020

Результаты регаты 2017
Первый абсолютный на 100 миль Адриатика
7-й абсолютный и 1-й класс в Ла-Оттанте
1-й класс в La Cinquanta

Общая информация
Эта лодка родилась под названием Andelsbanken IV, принадлежавшая Виктору Греуличу и возглавляемая шкипером Дженсом Кристенсеном, и была специально построена для участия в Кубке Адмиралов 1989 года в составе команды датчан.

Техническое оснащение и оснащение палубы:
Автоклав (a x aluminium**), внешняя душа, Ручной трюмный насос, Тендер, 8 Лебедка (Lewmar).

Бытовое оснащение на борту:
котлом.

Развлечения:
Привет-Fi (systemcontainer 20ft).

Аксессуары паруса:
Джек лениво (s), Парусный чехол (sails**), Ванг.

Кухня и бытовые приборы:
2 плитой (gas).

Обивка:
Покрыв корпуса (invernale).



Dettagli
---
Posizione solo approssimativa, non per le direzioni
Informazione generale
Costruttore:
X-Yachts
Modello:
50 One Off X-Yachts
Anno:
1989
Condizione:
Usato
Motore
Motore:
Volvo Penta MD 75, 75 hp
Tipo di carburante:
Carburante diesel
Serbatoio di carburante:
45 l (11.89 gal)
Misure
Lunghezza:
15.24 m (50.00 ft)
Larghezza:
4.37 m (14.34 ft)
Profondo:
2.98 m (9.78 ft)
Peso:
9856 kg (21,728.40 lb)